Life Lessons from Hockey: Interview with Gopher hockey great Tim Harrer
 By Stephen Dupont, APR, vice president, Pocket Hercules
During the weekend of October 21-22, 2016, Tim Harrer will be inducted in the University of Minnesota's Gopher Sports Hall of Fame (the M Club). Tim will be recognized for his participation on the University's Gopher men's hockey team during the late 1970s when the team won the NCAA national championship ('78-'79 season). He also will be recognized for his incredible, record-setting scoring performance during his senior year, when he scored 53 goals in one season, a record that still stands to this day.
You may also know Tim from another context. If you've watched the movie Miracle, he's the player that Coach Herb Brooks was thinking of adding to squad just weeks before the 1980 Winter Olympic games. It's the scene where some of the players challenge Brooks and say: "We are a family."
To me, Tim is one of my first cousins, the oldest of the four Harrer brothers who grew up in Bloomington. I'd visit their home every now and then to pal around with my cousin Mark, who was about a year older than me. We'd go see movies. Walk around Southtown Shopping Mall, where my dad, Barney Dupont, was a barber. It was during those visits that I witnessed what it was like to grow up in a hockey household, and where I got to see Tim and his brothers, out on the rink.
Stephen Dupont: You're going to be inducted into the University of Minnesota Gopher Sports Hall of Fame (the M Club) during the weekend of October 21-23. How does that make you feel?
Tim Harrer: It feels great. But, you know, it's really not all about me. I had a lot of great coaches throughout my life who believed in me and kept pushing me to do my best. And then there's my parents (David and Nancy Harrer) who saw that I really liked hockey and supported me by spending countless hours driving me to my practices and games, and paying all of those fees, and for hockey camp.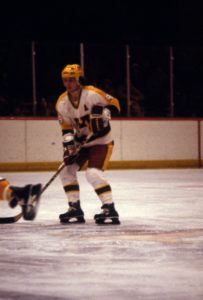 Dupont: Okay, let's go way back. What was your first memory of playing hockey?
Harrer: Well, the first time I remember playing hockey was as a little kid at Haeg Park in Bloomington, Minn., located near 84th and Penn. I remember skating on Penn Lake with my friends in the neighborhood, and later, we played hockey in the outdoor rink in the park. Back in the 1960s and early 1970s, there were kids everywhere in that neighborhood. In addition to my brothers, I remember playing with Mitch Anderson and his brothers.
I remember playing on a team as part of the Bloomington Athletic Association (BAA). We played all of our games outside on the hockey rinks throughout Bloomington. When I was about 10 or so, I was involved in Beltline hockey. It was the first traveling team where you had to try out to make the team.
After that, I played in Bantams, and then Midgets. When I entered high school, I played for the Bloomington Lincoln Bears high school hockey team.
There were lots of great players throughout Bloomington and Richfield when I was growing up. In fact, I played either with or against some of the same kids all throughout my career. Guys like Don Jackson and Steve Christoff.
Dupont: Was there a moment when you were a kid that you thought, I would like to be a professional hockey player when I grow up?
Harrer: We played a bunch of sports growing up – football, baseball, and hockey. I loved to go fishing and hunting, too. I liked football, but I was kind of on the small side and I realized after one game that I hated getting creamed by the bigger guys. I just remember liking hockey more and just being more excited doing that than any of the other sports.
Dupont: I remember when we were kids; you and your brothers (and maybe your friends) built a hockey rink in the back yard of your house in Bloomington. Did you do that every winter? Did you and your friends go out and play every day?
Harrer: My brother Mike and me – even when we were in elementary school – as soon as we got home, we would grab our skates and go play on the nearest ice. We'd play on the pond. We'd play at hockey rink in the park. We built that hockey rink in our back yard. We just wanted to play. When the park lights would automatically go off, we figured out how to pry open the light box and turn them on so we could keep playing into the night.
Dupont: Do you remember your first coach?
Harrer: I've had lots of coaches throughout the years, but the first coach who had a big impact on me was Jay Mitchell, the hockey coach at Bloomington Lincoln High School (The school closed in 1982. At the time, it was part of the legendary Lake Athletic Conference). He coached me for a year when I played in Midgets, and then for three years at Lincoln. He was a teacher. And between him and my high school counselor, Charlie Schuman, they both talked to me about the opportunities that hockey was opening up for me. I have to say, I wasn't much of a student. But they helped me understand that I could possibly go to college for free because of my hockey skills. I mean, I couldn't believe that at the time. I was just 15 or 16 when they said that colleges are watching me and that if I could keep up my grades, I might go to college for free.
Dupont: I remember that you used to shoot lead hockey pucks at a piece of plywood – even in the summer. How often did you do that? Did you think that helped in developing a strong slapshot?
Harrer: Oh yeah. During the summer months, we would shoot pucks in the backyard against a sheet of plywood. We drilled holes into a real puck and my mom would help us melt lead and pour it into the holes. We did that to strengthen our shots so when we shot a regular puck, it would go faster.
Dupont: In your parent's house, for many years, there was a black and white poster of you and your brother Mike with Phil Esposito (former NHL player who played for the Chicago Black Hawks, Boston Bruins, and New York Rangers) from the time you went to hockey camp one summer. What was that like – to meet a legendary hockey pro – at the age of 12.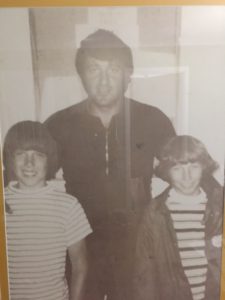 Harrer: That camp was incredible. It was held in Sault Ste. Marie, Ontario, and a number of other NHL pros were there for the camp. It was the first time I had ever been at camp for a week or out of the country. I had to stay with a local family during that entire time. I was only about 11 or 12. My brother Mike went with me, and our dad drove us and a couple other kids all the way up to northern Michigan. I'll never forget it, and one of the reasons why is that it was a major sacrifice for my parents. It was an expensive camp, and we basically grew up in a blue-collar family. Here's a funny story from that camp. They had a store where you could buy stuff – shirts, jackets, sticks, pucks, you name it. Our dad said, "get whatever you want." So Mike and I did. I mean, our dad did say, "Get whatever you need." We were just kids. Well, then the bill arrived later and he hit the roof!
Dupont: When you were growing up, whom did you admire? Who were your sports heroes?
Harrer: I really admired Phil Esposito at the time. But I liked them all – Bobby Orr and Bobby Hull. When we were kids, we all did the "Goldy Shuffle" that the North Star's Bill Goldsworthy made popular. Like a lot of Minnesota kids, I dreamed of playing for the Minnesota North Stars. My uncle, Mike Harrer, would take me and my brother Mike to their games.
Dupont: Besides hockey, you also played other sports, too. Football and baseball I think. Your dad, and your uncles loved sports (they played at De La Salle High School in Minneapolis). Were sports a big deal in your house growing up?
Harrer: Sports were a big part of our household. The interesting thing is that my dad didn't play hockey growing up. I think he and my mom could see that we really enjoyed it and it kind of kept us out of trouble. But they knew we loved it. I remember my dad would just go out and buy an armful of hockey sticks for me and my brother Mike. They were wooden sticks then. You could buy them for about $3 or $5 apiece I think. We always played with Christian Bros. sticks.
Dupont: Some players are known for their stick handling, others for their footwork, and others for their vision on the ice. What was your strength?
Harrer: I think it was shooting the puck. What I mean by that is I would constantly work during my team practices, and on my own, learning how to shoot the puck no matter how it came to me. Like all players, I love it when someone passes to me and the puck lands right on the tape. But usually it doesn't – it will land on your feet, or just ahead you or slightly behind you. I would constantly practice that – asking other players to pass to me so I could adjust as quickly as possible to take the best shot.
Dupont: You chose the Number 9 to wear at the University of Minnesota. I think that was also your number when you played for the Lincoln Bears. Why did you like that number?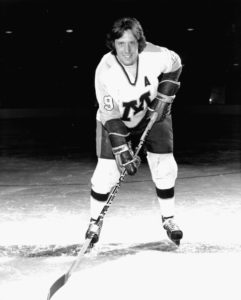 Harrer: I wanted to wear number 9 because that was the number worn by Bobby Hull and Gordie Howe number.
Dupont: In your junior year at Lincoln High School in Bloomington, the Bears went 24-3-0 and wound up in the Minnesota State Hockey Tournament (coming in 4th place). What was it like to play in the Minnesota high school hockey tournament at that time – when there was only one hockey tournament in which all of the high schools in the state could participate?
Harrer: I thought it was great. But I have to say, it was the first time I felt really nervous and I don't think I played as well as I could have. It really was quite an overwhelming experience. At that time, only one school in the entire state could win the championship. Today, they've broken it down into a number of classes. We played in the Met Center – where the North Stars played! Teams from all over the state — the state's best players.
Dupont: In your senior year of high school, your hope of going to state again with the Bears was cut short. You broke your ankle when a puck struck you either in a game or in practice. What was that like?
Harrer: Yeah. Well, what you may not have heard is that it was my own brother, Mike, whose shot broke my ankle. It was just one of those things. We were in a scrimmage for our high school team and he took a slap shot and I was near the goal. It just hit in a spot that wasn't well protected. So I was on crutches for 3 or 4 weeks and the whole time I'm thinking as soon as this cast gets off, I'll be ready to get back onto the ice. When it came off, I couldn't believe how skinny my ankle and leg had become. It caused a lot of concern because the college scouts knew about it and every time one of them called, they'd ask about the condition of my ankle and how it was healing.
Dupont: You caught the eye of Herb Brooks during your days playing at Lincoln. What was your first meeting with him like? Were other schools scouting you at the time?
Harrer: At first, I just received letters from him and the University of Minnesota about considering playing for the Gophers. I knew back then that I really wanted to play for either the Gophers or the University of Minnesota-Duluth Bulldogs. They were the two best teams at the time. So one day during my senior year, we went to visit the Duluth campus. I really liked it, especially because it was so close to so many fishing and hunting opportunities, which I really enjoyed. Shortly after that, I got my first call from Herb, who asked what school I was leaning toward. I just told him the truth. It was either the Gophers or the Bulldogs. I didn't want to play for any other schools.
Dupont: I remember that one of the first games you played as a Gopher, you and a number of other freshmen, got into a huge fight on the ice with another team. Do you remember that game?
Harrer: I remember that game, but actually, my first fight happened during a pre-season game with Duluth. I was minding my own business when this Duluth player jumped me. It was the first time I had to drop my gloves and fight. I remember Herb saying, "What did you get into a fight for?" And I said, "That guy just jumped me. I was defending myself."
Dupont: So you joined the Gophers the year after they had won the NCAA men's hockey championship. Were the expectations pretty high that you would go back to the tournament (the team would finish 7th in the WCHA that season)?
Harrer: The expectations were simply high because you were a Gopher and you played for Herb Brooks. I just remember going through all these transitions. First off, every day, you're playing for your slot on the team. I mean, there I was as a freshman, in the same dorm as Rob McClanahan, and we're both fighting to be on the team. And above us, all of the sophomores, juniors and seniors know that you're gunning for their positions. At first, I didn't like Rob, but after being worked over day after day by Herb Brooks, we became friends.
Or, here's another example: When I entered college, I remember that I and some of the other freshman seemed physically immature. I mean, I didn't even shave yet! And I only weighed about 165 lbs. It was kind of intimidating to see seniors like Jim Boo — he was this tough, rugged guy whose arms were as big as my legs. I knew that if I wanted to stay on the team, I would need to take training seriously.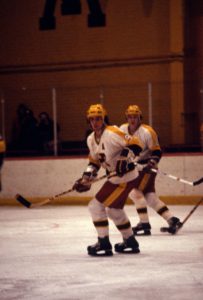 Dupont: Year after year, your scoring output continued to increased at the U of M (Note: As a freshman, Tim was named WCHA Rookie of the Year). Who was on your line during those seasons? Was there a combination of players that you really enjoyed playing with on the ice?
Harrer: Brooks was constantly switching up the lines. I think the most stable line I was on was during my junior year when I was paired with Steve Christoff and Don Micheletti. Steve would just fly like the wind, and Don was this brute of a player. It was a great combination.
But even then, when we went to the NCAA finals, Brooks would switch it up on us. Actually, it didn't really matter. That's because Herb had us practice every day for two to three hours. So we got to know each other so well that we all knew where everyone was on the ice at any given time. We just knew each other's style of play.
Dupont: You were on the team that won the NCAA championship during the '78-'79 season (defeating the University of North Dakota in the championship game)? What was that season like and what was it like to win the championship?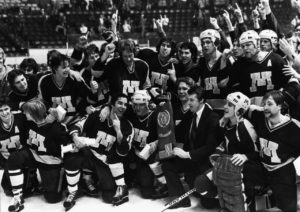 Harrer: I think it means more to me now then it did then. Every time I go to see a game at Mariucci Arena, I see the 1979 NCAA National Championship banner, and I see it up there with the other national championship banners. And it just makes me proud to have been a part of that team.
Here's a story: After we won the championship, all of the team members headed up to our hotel rooms to celebrate. We ordered a case of champagne. It was about $300. We were saying to ourselves, "Hey, all of the pros do it after they win a championship." So Herb finds out about it and says that every team member needs to chip in $10 each to pay for it or they would not get their championship ring.
Dupont: What was it like playing for Herb Brooks during your years at the University of Minnesota?
Harrer: The one thing that Brooks kept emphasizing was how lucky we were to put on the Minnesota jersey. He'd say, "Every kid in Minnesota wants that jersey. They want to play for this team. Never embarrass the M."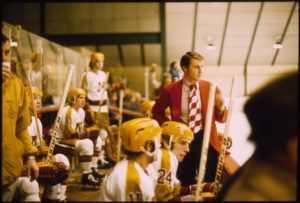 He was a really good motivator. He really tried to bring out the best in you. Every year, he brought in the five to six best hockey players in the state of Minnesota. That kept you on your toes.
Brooks also was unpredictable. We'd win and then he would skate us into the ground at the next practice. We'd lose and he'd lead a fun practice. The only thing you knew what he expected was your commitment to the Gopher hockey program.
Dupont: Did you have any favorite moments as a Gopher?
Harrer: Well, one of my favorite moments was when we would play North Dakota up in Grand Forks. At that time, their team was made up almost entirely of Canadians, while our team was all Minnesotans. You just felt the pride of Minnesota in those games. But what was really crazy is their fans would pack the stadium, and then, eventually, someone would throw out a real, but dead, frozen gopher on the ice. Think about that. You can only capture a gopher in the summer or fall. So someone hated our team so much that they kept a dead frozen gopher in their freezer until hockey season.
Our games against the University of Minnesota-Duluth also were intense. That's because a lot of their team members were guys from the Iron Range.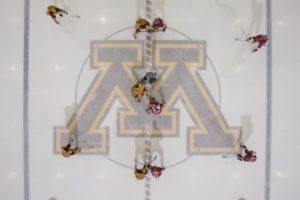 Dupont: So in the summer of 1979, you tried out for the 1980 U.S. Olympic hockey team – like a lot of other Minnesota players – because Brooks was named the head coach. You didn't make the cut. What was that like and what did you learn from that experience? What would you tell other aspiring young hockey players about how to move on from that experience?
Harrer: I thought I had a pretty good chance of making the team out of the 80 guys who were offered a try-out. But what I thought was really disappointing is that I was the only Gopher to return back to Minnesota. That sucked. All of my buddies made the team except for me. The first thing that hit when I got back to the Twin Cities was, "where am I going to live?" I was sharing a four-bedroom apartment across from the Berman Building on the campus with three players who made the team. I ended up getting an apartment with Bob Bergloff, another Gopher, who I knew for many years. He played for Kennedy High School in Bloomington.
Dupont: After the Olympic tryouts, you returned to the University of Minnesota for your final year. A lot of your buddies are on the Olympic team. You've got a new head coach, Brad Buetow, and a new linemate, freshman Aaron Broten. You went on to score 53 points that year and the Gophers return to the NCAA tournament. That must have been an absolutely surreal year…
Harrer: I think having the pressure of the Olympic team removed allowed me to just have fun. The whole season felt very natural. Don Micheletti and I were the only seniors who didn't play for the Olympic team, but then, Don suffered a knee injury that basically sidelined him for a portion of his senior year. But here's the thing. We had this incredible group of freshman join us, which included Aaron Broten, and everyone just stepped up to the plate. We ended up in the NCAA tournament when many thought it was going to be rebuilding year.
Dupont: Who were you paired up with during your senior year?
Harrer: I was on a line with Aaron Broten, who played center, and Steve Ulseth, who played left wing. Aaron was one of the best players to ever play hockey, and Steve was an All-American
Dupont: What factors came together that allowed you to score so many goals that season?
Harrer: Well, first off, I just played a lot more. As one of the veterans of the team, I probably played twice as much as I did the previous season. The other thing is that Aaron set me up so well. He had great vision on the ice, and he liked passing and would just put the puck at the end of my stick and I would score.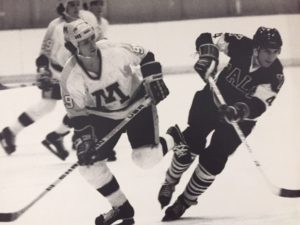 Dupont: So you wind up the '79-'80 season scoring 53 goals, a record that still stands to this day. You're the only Gopher to post a 50-goal season. And you're second in the team's history in both career goals (117) and points (201), behind only the legendary Gopher hockey player John Mayasich. Did you get a chance to meet Mayasich?
Harrer: Yes, during a ceremony at center ice during one of our games. It was incredible to meet him. He's a legend. I met him after I scored the goal that broke the record.
Dupont: By the way, out of all of the Gopher hockey players that you played with, who had the best hockey hair?
Harrer: We all had great hockey hair back then. Some of the guys definitely put a lot more of their time into their hair after a game than before. I'm not naming any names.
Dupont: In the 2004 movie, Miracle, there's a pivotal part in the movie where Coach Brooks is called off the bus and is confronted by several members of the USA hockey team who don't want him to add you to the team with just several weeks to go before the Olympics. It's the scene where one of the players tells Brooks, "We're a family." At the time, during the '79-'80 season, you are in the midst of an incredible scoring streak (you'll score 53 points to set an all-time scoring record for the University of Minnesota). Was that what happened in real life? Is there anything you'd like to correct?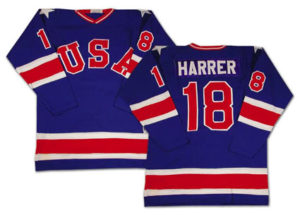 Harrer: Yes, it was accurately portrayed in the movie. I was really excited to get the call. I really wanted to play with all of my friends again. But I could understand how the other players felt.
On the other side, Brad Buetow was not happy. In addition to me, Brooks called Aaron Broten, too. So, there we were having this great season (it was supposed to be a rebuilding year after many of the seniors were selected to play for the Olympic team), and Buetow was trying to prove himself so he could secure the head coaching job the next season. He was the interim coach and it was not clear that Brooks would be back after the Olympics or not.
When Brooks changed his mind, I wasn't too disappointed because we just went back to all of the fun we were having with the Gophers.
Note: The 1979-80 Gopher men's hockey squad would finish second in the Western Collegiate Hockey Association (WCHA) and lose in the quarterfinals of the NCAA hockey tournament to the University of Northern Michigan. Buetow was named WCHA Coach of the Year and stayed with the Gophers through the end of the 1984-85 season. Brooks did not return to the University of Minnesota. Brooks accepted a job as head coach of the HC Davos professional hockey team in Switzerland after the 1980 Winter Olympic Games in Lake Placid , and go on to coach in the National Hockey League (NHL) with the New York Rangers, the Minnesota North Stars, the New Jersey Devils, the Pittsburgh Penguins. He was killed in a car crash in 2003, dying at the age of 66.
Dupont: So after the '79-'80 season with the Gophers, you jump into the NHL. I think the first team you played for was the Birmingham Bulls. What was it like to jump from college hockey into minor league professional hockey?
Harrer: Things got off to a rough start. After we finished the season with the Gophers, I was just planning to finish my year at the U of M. Then, later in the spring, my agent calls and says the Bulls need some help. It was just for five games. But by then, I wasn't training and I was out of shape, so I didn't play at my peak. On top of that, the Bulls coach did not like my style. He was a coach that wanted to see a lot of fighting. You see, under Brooks, we had a strong team style of play similar to the Russian game. That was where hockey was going in the U.S. The Bulls coach would just scream at me ("You don't play for Herb Brooks anymore, you play for me!") for passing so much. Finally, he traded me.
Dupont: You went on to play for a number of other minor league teams. At that time, did the minor leagues resemble the movie Slapshot?
Harrer: Yes and no. There was a lot of great hockey being played in the minors. At that time, most of the players were coming out of the Canadian junior leagues. These were younger players who did not go to college and were being developed by the NHL clubs. I rarely ran into American players who had played at the college level. There was also this unwritten code at the time. Players seemed to have roles. I was considered a scorer. Other players were labeled as enforcers or goons. When fights broke out, the goons usually fought the other goons. They rarely touched one of the scorers, unless that guy did something to a goon, in which case, he had it coming to him.
Dupont: You finally got your shot at the NHL, playing several games for the Calgary Flames (Note: Harrer was drafted 148th overall in the 1977 NHL entry draft by the Atlanta Flames, which moved to Calgary beginning with the 1979-80 season). What was that like? Was it a huge difference compared to playing in the minor leagues or college?
Harrer: I didn't feel it was a huge jump from college hockey to the pros. Not like going from high school to college – that felt like a really big leap for me. But what was interesting is that except one other player, Greg Meredith, who played for the University of Notre Dame (but was from the Toronto area), all of the other players came out of the junior leagues of Canada.
That's when I started to realize how the NHL system worked. They wanted younger players that they could develop. While I was only 23 at the time, I was playing with guys who were several years younger than me.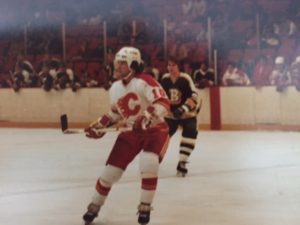 I played three games with the Flames (1982-83 season). I'll never forget those games. I loved every minute of it. I was in the same game as Wayne Gretzky when he was playing with the Edmonton Oilers. And, I played with Steve Christoff, again, who had been recently traded to the team from the Minnesota North Stars.
Dupont: You were later traded into the Minnesota North Stars farm club system…
Harrer: Yes, I was excited by that. I thought, maybe, just maybe, I might have another shot. I mean, as a Minnesota kid, what young hockey didn't dream of playing for the North Stars. I played for their team in Salt Lake City, the Salt Lake Golden Eagles and had a great year. But it didn't pan out.
Dupont: When did you make the decision to stop playing professional hockey?
Harrer: After my time in Salt Lake City, I went and played in Austria for a little bit. But when I returned, I realized that it was just time to hang up the skates and get on with life.
Dupont: So you returned to the University of Minnesota…
Harrer: Yes, and you know what, I found myself in some of the same classes with some of the same professors, only I was now 27 years old. But I didn't let that deter me. I really enjoyed that time because I could focus just on my studies. When you're playing for the Gopher hockey team – at least under Brooks or Buetow – they would have us practice for three hours every day. Often times, you didn't have the energy to hit the books or write a paper after you came back from one of those practices. I worked hard and I finally achieved my B.A. from the University of Minnesota.
Dupont: Out of all of the players you've played with, from pee-wees to the pros, whom did you most admire?
Harrer: When I was with the Calgary Flames, I had the opportunity to train and play with Kent Nilsson. He was absolutely the most skilled player I have ever seen. He was up there with Gretzky and many other greats, but you often don't hear much about him. Anyway, his stick handling was phenomenal. It was magical. He could go from one end of the ice to the other and go through a whole team and score.
Dupont: In the years since, have you ever played hockey again?
Harrer: I tried bandy. And I played a few Gopher reunion games. But after I hung up the skates, my interest in it just never rekindled. Instead, I got more into fishing and hunting. I really love being in the outdoors.
Dupont: Any regrets?
Harrer: I think my only regret is that I never got to play with my brother Mike, who was up at Duluth for a bit, and then transferred to the University of Minnesota. That would have been great. I wish we could have found a way to make that work.
Dupont: When Gopher hockey fans see a game at Mariucci Arena, your image is prominently displayed in the stadium in a mural along with many other Gopher greats. I don't know if you were there when that image was first unveiled, but what's it like to be considered among the legends of Gopher hockey?
Harrer: The first time I saw it, I was shocked. It's really neat. It makes me smile inside every time I see it.
Dupont: If a 12-year-old boy or girl who loves hockey were to come up to you and ask for advice, what would you say?
Harrer: Well, I'd tell them to keep it fun. I felt like I put a lot of pressure on myself to perform. But I found that when I was focused on having fun, everything came just a lot more naturally. That's how I felt during my senior year at the University of Minnesota when I broke the school record for scoring the most goals. Even though Brad Buetow worked the entire team really hard, I was having fun every day.
On the other hand, I have this Herb voice inside my head, and he's saying: If you work hard, you can accomplish just about anything. That's served me well my entire life. And, if you get to put on that University of Minnesota jersey, just remember, you are the luckiest kid in Minnesota. You'll have friends for life.
Dupont: Thanks for sharing all of these memories and insights with us Tim.
Harrer: You're welcome.
Stephen Dupont, APR, is VP of Public Relations and Branded Content for Pocket Hercules (www.pockethercules.com), a brand marketing firm based in Minneapolis. Contact Stephen Dupont at www.linkedin.com/in/stephendupont or visit stephendupont.co.