What I Learned as a Summer Intern
By Tiffiney Biorn
Note: During this past summer, Tiffiney Biorn, a senior studying communications at Augsburg College, worked as an intern at Pocket Hercules. I'm glad to have her share this guest post about what her experience was like. — Stephen Dupont
Becoming an intern is never what you expect. We've all seen the movies with the girl, or guy, who's forced to pick up the coffee for early morning meetings and run endless errands for the boss, with the little to no pay.
Luckily, my experience while interning for Pocket Hercules, a Minneapolis advertising, public relations and branding firm, has been nothing like the movies.
I first learned about this internship during my senior keystone class at Augsburg College, where I will graduate with a degree in communications in December 2016. The purpose of this class is to prepare seniors for what happens after graduation. We talked about what to look for in our future jobs – the work we'll be expected to perform, company cultures and working environments, etc.
One particular week during the semester we had visitors who worked in the communications field visit with our class to talk about their jobs and help us understand what a communications (or similar) degree could lead to in terms of potential career options. One of these visitors was Stephen Dupont, vice president at Pocket Hercules.
Stephen explained how he started in public relations and what a typical day looks like in the advertising and PR agency world. He explained the role of public relations as it relates to marketing and business. And at the end of his presentation, he mentioned the possibility of an internship opportunity. This internship was available to students who received a Great Lakes Grant, an internship program available through Augsburg. This particular grant gives students an opportunity to work at an internship that is paid, when it's typically unpaid. I applied, and was one of 50 Augsburg students to receive an internship grant.
After two interviews with two different companies, I chose Pocket Hercules (or rather, they chose me). I chose this internship for three reasons:
I chose the boss, not the job. Based off of Stephen's knowledge and passion for his career.
I wanted to get out of my comfort zone, which included the idea of working in downtown Minneapolis rather than a suburban location where I grew up.
And the varied learning opportunities I thought I would gain from Pocket Hercules.
Learning on the Job
Sure, it was scary in the beginning, not knowing anyone or anything about the job. But, during my time there, I feel like I've grown as a person and as a professional. I networked with individuals within a variety of careers. I learned how to write commercials and advertisements. I also learned the importance of looking for what I wanted in a job.
Throughout the summer I've worked on a variety of projects. I contributed to radio and TV scripts and Facebook advertisements. Some of the clients that I worked with included Nexus, Transport America, and Tiny Footprint Coffee.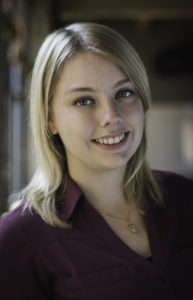 My primary client was Tiny Footprint Coffee. For them, I wrote social media posts and blog posts. I sat in client meetings. I went out to their roasting facility located in Brooklyn Park and interviewed their employees, including the company's president. I also interviewed Tiny Footprint customers (coffee shops and food co-ops) and submitted articles based on those interviews for the Tiny Footprint blog.
With all the work I accomplished, I feel that the advertising and marketing field would be the direction I want to strive towards after graduation. It's creative and it seems like it's always evolving. I like the fast paced environment, and the opportunity for constant learning that it offers. It certainly isn't boring.
Tips for Your Internship
So, if you're a college student and you're wondering if an internship would be right for you, here are six tips and pieces of advice that I'd like to share with you on how get more out of an internship:
Never be afraid to ask questions, even the simplest of ones.
Offer your assistance to your boss, or coworkers. You'll never know what you'll get to do.
Conduct informational interviews with everyone. Networking is always important.
Accept the help. You can't improve without the feedback.
Always bring a paper and pen to a meeting. This seems strange, but it's a good habit to form.
Learn to accept failure. Yes, it sucks, but that's how you learn and grow as a professional.
Thank You's
Having the opportunity to intern at Pocket Hercules has been a once-in-a-lifetime opportunity. A big thanks to Stephen, Anne, Lisa, and everyone else at Pocket Hercules for their help and guidance. I've learned so much.
Anne was very understanding and encouraging. She answered all of my questions, even the "simple" ones, and gave me advice on tasks. During my first week at Pocket, she created a seating chart, so I could learn everyone's name.
Lisa knows everything. If I didn't know how to create a certain document, or the process of creating and delivering projects to clients, she always helped me. She gave me the opportunity to help her. She also taught me about the voice-over process for commercials.
Stephen is a wonderful mentor. He's taught me so much, not just about the public relations world, but also about networking and learning. He encouraged me to think about graduate school, which I had never thought about, and to look for a career that fits my needs. He taught me to never stop writing and learning.
Thank you Pocket Hercules for this opportunity and for allowing me to bother, ask, and learn for the past four months. This was truly a pleasure and a wonderful experience.
Tiffiney Biorn is a senior (Winter 2016) at Augsburg College in Minneapolis studying communications.