By Kristian Evans, Senior, Augsburg University
This fall (Sept. – Dec. 2018), I hired two seniors from Augsburg University, located near downtown Minneapolis where I work, to serve as communications/branded content interns for our firm, Pocket Hercules. As is my tradition for all my interns, for their final assignment, I asked them both to write what they learned during their internship. Here are observations by Kristian Evans, who will graduate in May 2019 with degrees in communications and political science.
In my first year of college, a guest speaker came to my Principles of Marketing class at Augsburg University to talk about his work for an ad agency called Pocket Hercules. He explained the origins of the admittedly strange name and his work. That class visitor was Stephen Dupont. Three years later I found myself walking into the office for my first day (September 2018) of an internship with him that has done more for my writing than any other educational experience.
While I'd had internship experiences prior to coming to the Pocket, this was the first time I'd been in an office that wasn't a boring cubicle-filled hell-scape.
The space at Pocket Hercules is quite the opposite. Basically, what you'd envision when thinking about what a millennial ad agency would look like.
Open concept? Check
Exposed Brick? Check
Free Snacks? Check and check
While all of what is wonderful, the things I'll take with me from Pocket Hercules (aside from the snacks) is the knowledge of how different brands try to tell their own story.
Telling a Brand's Story
Because I work as the senior news editor for my school newspaper, The Echo, I understood the very basics of producing and cultivating content; my internship at Pocket Hercules helped me learn valuable skills that make any style of writing stronger.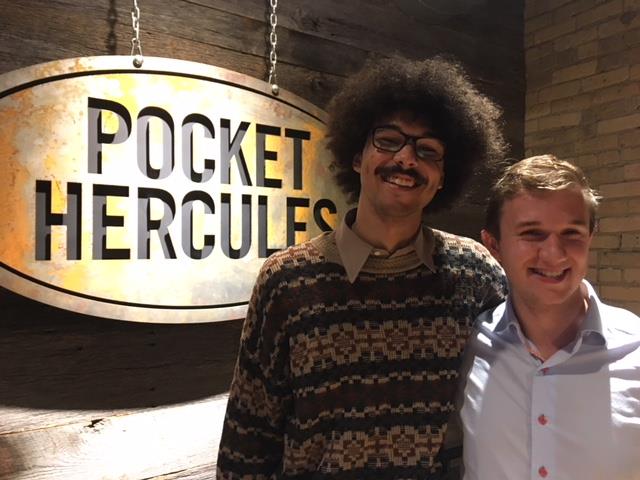 The accounts I worked with everyday varied greatly, but I was always enthusiastic about what I was learning. Going from researching tips on how to plan a winter wedding to learning about safety technology on a semi-truck really is just par for the course at the Pocket. It is a place where curiosity allows your writing to thrive.
Learning about writing was hardly the only thing I learned. Each and everyday I came into the office I had various assignments that had me engaging in my work in all sorts of different ways. I conducted interviews, wrote content and drafted social media posts all with the intention of making a brand's unique voice stand out.
Through all of the content I created, the idea of storytelling remained in the forefront of my mind. Professional truck drivers entering a new career after a serving overseas, kids learning the value of jobs in the trades and a golf course blending the past and future of the game together all told different stories in different ways with the same goal of growing a community.
Beyond Writing
To talk to individuals who were shaped by or helped shaped a vision for a brand made writing the pieces feel more impactful. It's one thing to hear the facts and figures of how a product or service benefits a customer, but it's another to hear the personal stories of people finding fulfillment and purpose through the work of a brand. Finding those meaningful connections and writing about them brings a value to this work that I never anticipated.
There are plenty of internships that value your work, but at Pocket Hercules, your future is valued just as much, if not more.
The opportunity to explore downtown Minneapolis through the (initially) complex skyway system and have informational interviews with other communication professionals during the semester helped me to both build a network and develop a better understanding of what my career could look like.
Words of Thanks
A massive thanks to everyone at Pocket Hercules who helped made this experience so impactful. And thanks to Stephen Dupont, who took the time to answer each and every question about writing (note: I won't ever use the word "target" in a piece again) as well as networking and career development opportunities that will benefit long after I leave.
Finally thanks to fellow intern Winston Heckt for putting up with me for an entire semester. It's hard to imagine anyone being better at construction-related puns; it's been wonderful to share my time at Pocket Hercules with you.
Kristian Evans is a senior studying communications and political science at Augsburg University, located near downtown Minneapolis. He will graduate in May 2019 and plans to pursue a career in communications and public policy. To learn more about Kristian, visit his LinkedIn page.
Stephen Dupont, APR, is vice president of public relations and branded content at the Minneapolis creative and branding firm Pocket Hercules. Dupont blogs about creativity, curiosity, marketing, careers and strategic foresight at stephendupont.co. To reach him, email [email protected] or visit pockethercules.com.