From Ordinary to Sacred, Beautiful and Fun: Inside the Creativity of Artist Carolyn Swiszcz
 By Stephen Dupont, APR, vice president, Pocket Hercules
When I look at Carolyn Swiszcz's painting, "Big K", I am struck by a range of thoughts and emotions. My first thought is, "Who would ever paint a painting of a Kmart sign? I mean, c'mon, it's Kmart?" And yet, the way that Carolyn has captured the moment, her whimsical, witty expression instantly transports me back to a day when I took my grandmother Alice shopping at the Kmart in Richfield, Minn., where we'd watch for the flashing Blue Light Specials while walking through the store. And for some reason, I feel happy, even though I know the days of Kmart are numbered.
If you haven't heard of Carolyn Swiszcz, she is a Minnesota artist who uses painting and video to capture both well-known and overlooked icons (buildings, signs, interiors) of city living. She pulls out the soul of seemingly mundane buildings that we drive by daily, or walk through. She expresses herself through video (check out "West Saint Paul" and her "Inventory Days" series), as well as mini, downloadable books that you can assemble. Carolyn's work has been exhibited at the Minneapolis Institute of Arts (MIA), The Drawing Center, Highpoint Center for Printmaking, Miyako Yoshinaga Gallery in New York, Steven Zevitas Gallery in Boston, The Corcoran Gallery of Art, and the US Bank Stadium Art Collection. She is a recipient of the Jerome, McKnight, and Bush artist fellowships. 
I know Carolyn through Saint Anne's Episcopal Church, where we are fellow parish members and recently served together on the church council. That's where I had the opportunity to witness her creativity applied to everything from the church website to her work with the youth participating in our church's Sunday school. I'm grateful to Carolyn who took the time to share her journey as an artist and to explain her approach to creativity.
Stephen Dupont: Carolyn, did you actively seek out art classes while attending school in New Bedford, Mass.? Did you have a particular teacher you inspired you?
Carolyn Swiszcz: New Bedford had an art school, the Swain School of Design. It merged with the University of Massachusetts-Dartmouth in 1988. I remember making a drawing there when I was in kindergarten. I also had a great art teacher at New Bedford High School, William Bettencourt, who taught many fundamentals of drawing and composition that I still use today. At MCAD, I had classes with Judith Roode who was invaluable in helping me discover the tools to help me stay inspired.
Stephen Dupont: At what point in your life did you think, "I wonder if I could be a professional artist?"
Carolyn Swiszcz: I always knew that I wanted to be an artist or a writer. I don't remember wanting to be anything else. It really wasn't a question — I knew creativity would be a big part of my life.

Stephen Dupont: What was your first job?
Carolyn Swiszcz: My first job out of college was working in the marketing department of a beauty products distributor doing grunt work design…things like salon coupons and service menus. I didn't take any design classes in art school but I could use a computer and got by well enough to land the job. I hated the office environment and honestly I wasn't a great employee. I was let go after three months and I have never worked a 9 to 5 job again. I decided to seek jobs that were unrelated to my artwork, such as waiting tables. I also kept my living expenses low (roommates, and didn't own a car) so that I would only need to work part time. That meant I had time for art. I am blessed that my parents paid for college (it was also more affordable in the 90's) so I was not burdened by loans.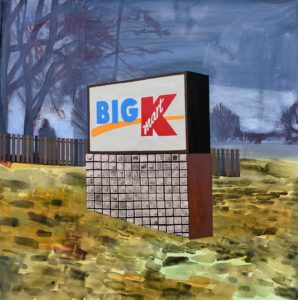 Stephen Dupont: According to an article written by James Fallows for The Atlantic, New Bedford, Mass., where you grew up, is ranked as the 7th most artistic community in the U.S. What do you recall about the city and it's influence on your art?
Carolyn Swiszcz: Of course I didn't appreciate my hometown while I was growing up. As a teen I was anxious to get to a big city where there were better record stores and the opportunity to see the bands I liked. Parts of New Bedford, like many old manufacturing towns, are really stuck in poverty. I found (and still find) those places to be very depressing. I think a lot of what I make is my way to come to terms with some of the ugliness I see every day. I am proud of my city; New Bedford has improved a great deal, especially after a section of downtown was designated as a National Historical Park. There is still untapped potential in New Bedford.
Stephen Dupont: What bands did you want to see?
Carolyn Swiszcz: In 1990, when I graduated from high school, some of my favorites were the Pixies, Warren Zevon, Big Audio Dynamite, They Might Be Giants, and Billy Bragg, all of whom I got to see at First Avenue in my first few years in Minneapolis.
Stephen Dupont: What influence did your parents have on you as a professional artist? Did they encourage you growing up? Do they still cheer for you today?
Carolyn Swiszcz: My parents were very encouraging. I can't remember an instance where they discouraged me from pursuing my art or raised concerns about how I would make a living. My father passed in 2009. My parents both are creative in their own way. My father was a machinist and handyman and my mom is a genealogist and interested in history. I would classify both of them as self-educated, curious, life-long learners.
Stephen Dupont: You attended the Minneapolis College of Art & Design (MCAD). Why did you choose this school? And how was the transition from New Bedford to Minneapolis?
Carolyn Swiszcz: It is funny to look back on the decisions that we make at age 18. Even though one of the country's most well-regarded art schools, the Rhode Island School of Design, was less than an hour away, I was looking for some independence and adventure further from home. My oldest brother was living in Minneapolis and I had heard it was very art-friendly city. I barely knew anything about Minnesota but took a chance. MCAD was a good fit for me. It was small and comfortable. Minneapolis fulfilled my desire to be near more music, movies, bookstores, and museums. The relatively modest size of this metro area was unintimidating and a good place to grow into adulthood. It's a good place to be an artist and have a family.
Stephen Dupont: You're married to photographer Wilson Webb. What is it like to be in a relationship with another artist?
Carolyn Swiszcz: I am lucky that Wilson's personality complements mine, he is creative but I would say he's not as temperamental.
Stephen Dupont: What influence, if any, does Wilson have on how you approach your art?
Carolyn Swiszcz: He has been a collaborator on all my videos. Most importantly, he is generous with feedback and encouragement. I would say I need personal encouragement just as much as I need aesthetic opinions.
Stephen Dupont: You both (you and Wilson) live from project to project. There's uncertainty there, not knowing where your next project will come from. How do you live with that?
Carolyn Swiszcz: We have built a generous emergency fund and have resisted the temptation to overspend when work is plentiful. Wilson primarily works in the film business as an on-set photographer so he is a member of a union; their support in terms of health insurance and pension has been invaluable.
Stephen Dupont: What other artists have inspired you?
Carolyn Swiszcz: Edvard Munch, Ben Shahn, Jean Dubuffet, Ben Katchor, Sarah McEneaney, David Hockney, Edward Hopper, Marsden Hartley, to name a just a few.
Stephen Dupont: You've been a professional artist for a while now. Do you ever reflect on that and wonder if you should be doing something else? Or, do you feel you are living your purpose? That this is exactly what you should be doing with your life?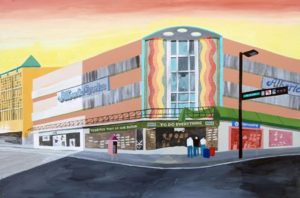 Carolyn Swiszcz: I can't imagine doing anything other than some kind of creative pursuit. It doesn't feel like a choice but a need that I have to satisfy.
Stephen Dupont: How do you feed your creativity? Do you go see the work of other artists? Do you read certain books or magazines? Do you travel a lot? Do you listen to certain music? Does trying different types of food inspire you?
Carolyn Swiszcz: I was highly influenced by the book, The Artist's Way, by Julia Cameron. It's a series of exercises that helps creative people find the things that inspire them. One of the principal exercises is taking yourself on "artist dates." It's simple: once you identify the things you love to do, you make time to do those things (she suggests the date is something to be done alone). I love to travel and take walks. I am pretty disciplined about being a tourist in my own city.
Stephen Dupont: What core values do you live by, and how have your values influenced your creativity and ultimately, what you produce?
Carolyn Swiszcz: Well, I would say gratitude is the probably the value that I have tried to cultivate most in my life. I also feel called to share my creativity with others when I can, often through teaching. I hope that there is a kind of generosity in the things that I make — that people might find them entertaining, humorous, and (for lack-of a better word) life-affirming.
Stephen Dupont: How has your faith influenced your creativity? Or, do you try to keep faith separate from your creative work? You grew up Roman Catholic but later became an Episcopalian – did that have any affect on your creative outlook?
Carolyn Swiszcz: My friend, artist Michon Weeks, once said that in my some of my work I was trying to "make sacred things ordinary and make ordinary things sacred." Growing up there was an emphasis on the proper way to behave in Mass and the idea that people and items in Church are imbued with a holy power. I suppose that has stayed with me. As aspects of church seem less magical I have made an effort to cultivate my own rituals.
Church is important to me as a place to intentionally carve a space out of the week to take inventory and set intentions. It's like a spiritual exercise buddy. The community aspect is very important to me as well – we need to support each other in this life. Of course there are lots of ways to find community but if you can find a group that feeds your soul (also your stomach with fantastic potlucks) it's helpful in many ways.
Stephen Dupont: What's your creative routine?
Carolyn Swiszcz: I am a morning person. I also like to work on things a little bit at a time over a long period of time, meaning I would prefer to work on a painting for an hour each day for a week rather than in one concentrated block of time. I find the time away from the work essential in making it better.
Stephen Dupont: When I look at some of your work, such as your painting of the 3M building, or Hope Lutheran Church near Lake Nokomis, I wonder how do you select the subject of your compositions? What inside you says, "I want to paint that?"
Carolyn Swiszcz: My paintings generally start in a very formal way – some visual trick I'd like to play with. For example, on the Kmart sign (Big K), I was attracted to the little square cinderblock bricks and how satisfying it would be to stack those up in a wonky grid. My painting, Hope Lutheran Church, began with wanting to draw the word Hope in that particular font — layered on top of with what can be seen as kind of a hard-edge, hopeless brutalist concrete building (it's actually designed by renowned architect Ralph Rapson).
It's always best when there are also some mixed emotions to layer over those items of visual interest. For my painting, 3M Headquarters from the East, the 3M building is very pleasing to me. I love driving past that complex. It's a beacon that can be seen even from the High Bridge in my neighborhood. It's such a Minnesota icon. I received a McKnight Foundation grant (William McKnight, worked for 3M for 59 years and rose from an assistant bookkeeper to its president), so there's happiness and gratitude that I associate with 3M. But I also think of the chemicals associated with 3M products that have tainted groundwater in and around our area. So I feel that there's something ominous in the building too. As an artist, I love when there multiple points of entry for people — things that they might bring to the subject.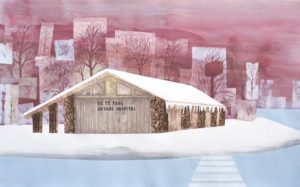 Stephen Dupont: Do you ever just get fed up with a work in progress and paint over it, or toss it out, and start all over?
Carolyn Swiszcz: Yes, all the time. My favorite paintings are ones where I took a big risk — where I made some kind of irreversible decision halfway through a project that was either going to really make the painting work or ruin it. Sometimes they just get ruined or overworked, or the subject was not good enough to sustain my interest, or it was just a bad choice to begin with.
Stephen Dupont: It feels like you're always creating. Do you ever have times when the creativity is not flowing? If so, how do you get it going again?
Carolyn Swiszcz: I have to say it's been a couple decades since I've had a creative crisis. I have so many things going at once in different media and I have a backlog of ideas. I just switch when I get frustrated with one.
Stephen Dupont: Are you constantly collecting ideas? Do you keep a file of future ideas? Are there times where you just have to declutter the ideas you've collected to make space for something new?
Carolyn Swiszcz: I do have a list of subjects and lots of photos. I don't consciously declutter, I just kind of pass things over. It's probably good when I can't get to something right away. Sometimes I've been itching to get to something but get delayed and a couple weeks later I wonder what I was so fired up about.
Stephen Dupont: You have a daughter, Ramona, who is in elementary school. How has she influenced your creativity?
Carolyn Swiszcz: Being a parent has made me use my time more efficiently because it's a little more precious. One of my favorite things about parenting has been re-discovering children's books. I'm really inspired by the artists and illustrators we've enjoyed together.
Stephen Dupont: As an artist, you're also an entrepreneur, in charge of marketing your work, participating in shows, selling your artwork, etc. When you were thinking about art as a career, did you imagine that particular side of the business? What have you learned as a result? What tips would you share with other artists entering the business?
Carolyn Swiszcz: Business is not my strength. Putting a price tag on my work will probably always be a struggle. I've never depended on art as a source of income; I've never wanted to lean on it that hard. One area I have been successful in is grants, maybe because I've tried to keep the focus on the work (there's a little luck involved, too).
There are people who are much better than I am at dispensing professional practice tips. Artist and author Sharon Louden (Living and Sustaining a Creative Life) often leads a great workshop through the web site Creative Capital. I also recommend the podcast Creative Pep Talk for anyone who does creative work.
Stephen Dupont: How did you build a fan base for your work? What do you do today to stay in touch with current collectors, and what do you do to introduce new people to your work?
Carolyn Swiszcz: Social media is obviously the primary way things are done today. I am on Instagram and Facebook. I try to get out to openings. I also try to send things in the mail from time to time. I've been making a series of little zines that I enjoy distributing to friends and professional contacts.
Stephen Dupont: You spent three years in Miami in the early part of your career. Are there any similarities that you can draw between Miami and Minneapolis-St. Paul?
Carolyn Swiszcz: Hmmm…no.
Stephen Dupont: Some artists express their political or social justice side through their art work. How do you feel about that? For example, you recently participated in the Minnesota Women's March. Does that or other cause-related experiences influence your creative work?
Carolyn Swiszcz: I often wish my work was more political. I feel like that's something that's hard to do well and something I can't force myself into. I believe the best political work grows from a personal interest or concern rather than bending the work to convey a big message.
For example, I believe climate change is real and the effects are happening right now. Learning more about it often spins me into feelings of despair and hopelessness. I decided to focus on one small piece of my environmental footprint that I could control: saving energy as a dedicated clothesline user. I started a Facebook page called Air Dry, which is meant to celebrate and promote the use of clotheslines in a fun way. I'm not expecting everyone to be as fanatical about it, but imagine how much energy could be saved collectively if households dried just one load of laundry a month on the line? Even just sheets and bedding! I have to admit I haven't kept up my page over the past year. I find it hard to stay motivated when your work is a tiny drop in the bucket. Maybe it is time for a reboot with a slightly new strategy.
Stephen Dupont: What do you think the climate for artists will be over the next four years?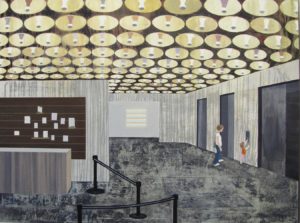 Carolyn Swiszcz: Artists, myself included, are going to find creative new ways to make change.
Stephen Dupont: If you were hit by a bus today, what's the one piece that best defines your absolute best work?
Carolyn Swiszcz: My favorite painting is "Whitney Lobby." There is nothing about it I would change.
Stephen Dupont: What's next for you? You mentioned on your website that you'd like to create a book someday. Is that your next big project? You've also explored video quite a bit, too. Where does a restless artists' heart go next?
Carolyn Swiszcz: For the past month I have been a visiting artist at Highpoint Center for Printmaking in Minneapolis where I have been working with some new (to me) print processes such as watercolor monotype. I hope this will result in a show of new work sometime in the near future. I am still experimenting with books and hope to make new videos in the "Inventory" series. I have too many ideas and not enough time, and that is mostly a good thing.
Stephen Dupont: Thank you for sharing your story with my readers.
Carolyn Swiszcz: You're welcome.
Stephen Dupont, APR, is VP of Public Relations and Branded Content for Pocket Hercules (www.pockethercules.com), an advertising, public relations, digital brand marketing firm based in Minneapolis. Contact Stephen Dupont at www.linkedin.com/in/stephendupont or visit stephendupont.co.