Super Fans: How to Attract More Fans to Your Brand
By Stephen Dupont, APR
As marketers and communicators, we often get caught up in the measures we are trying to achieve – impressions, Facebook likes, open rates and click-thrus – all in the overall pursuit of more sales and increased market share.
But what we're really in the business of doing is building fan bases for the brands we represent. Because it's people who buy the products and services we offer, who experience those products, and who share those experiences with others.
Every brand – from big brands such as Apple to little brands, such as Granny Donuts in West Saint Paul, Minn., two miles from my home — have super fans.
Law firms have super fans, as do elementary schools, senior living facilities, financial planners, faith communities, equipment manufacturers, government agencies, fishing guides, politicians, and nonprofit causes.
What makes a super fan?
Kevin Kelly, a co-founder of Wired magazine, tackled this question in a well-known article titled "1,000 True Fans," published in 2008, in which he speculated as to how many dedicated fans an artist, such as a musician or a sculptor, needs to make a living over the artist's lifetime.
Kelly determined that a true fan or a super fan is someone who buys everything you produce. Think of Elvis or Michael Jackson. Long dead, their super fans continue to buy their music, apparel, photographs and posters, contributing millions of dollars each year to their estates. This endearing loyalty is called the long tail effect. Long after the introduction of a new product or innovation, fans continue to drive revenue for an organization based on their loyalty to the brand.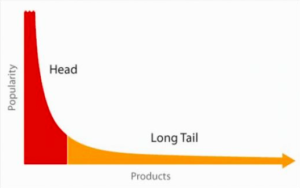 Super fans are the first to Like your Facebook page. They're the people who write positive reviews on Amazon. They recommend your brand over other brands at the office or at the reception following the school band concert. They invite their friends to community events sponsored by their favorite brand. They share articles and videos with their friends through email. And they create their own fan blogs and Facebook pages dedicated to their favorite brands.
They are, in essence, an extension of a brand's sales force.
Nurturing super fans isn't limited to just the sales of products and services, obtaining a vote, or encouraging donations. It applies also to recruiting and retaining talent, too.
Take for example, the recruitment efforts of Transport America, a leading U.S. trucking firm.
Did you know that at many trucking companies throughout the United States, turnover of truck drivers is more than 80 percent per year? Across the industry, retaining talented, professional drivers is the No. 1 problem for even the best trucking companies. Reducing turnover can have a profound financial aspect on a trucking company's bottom line, including the mitigation of risks (e.g., crashes and moving violations).
Over the past several years, Transport America has been making substantive policy changes to improve the working conditions for its drivers. More than 80 changes to date, such as encouraging its drivers to pull over when it's unsafe to drive (many trucking companies push their drivers to meet their deadlines regardless of road conditions) and calling all drivers by their first names (instead of addressing them by their driver number).
Transport America invited our firm to help them redefine their brand based on these changes, and to launch a content-driven recruitment program to attract the best drivers in America.
With a new brand identity – "The Trucking Company That's Changing Trucking" – Pocket Hercules built a newly designed, easy-to-navigate website; a monthly e-newsletter for drivers; and a robust social media program focused on communicating respect for the driver, safety, and a friendly, welcoming culture.
At the very core of these efforts was a concerted effort to speak directly with Transport America drivers – especially the super fans among its driver population – to learn what separates Transport America from other companies. This effort included shooting more than a dozen hours of face-to-face interviews with drivers from all over the country, which allowed us to glean the essence of what makes Transport America special.
In nine months, the program has helped Transport America establish a distinct brand within the trucking industry, attract more qualified drivers and reduce the number of unqualified applicants (allowing its HR professionals to spend more time on the qualified drivers).
It starts with dialogue
So how do you attract more fans to your brand?
I believe the key is to take the time to really understand why a super fan becomes a super fan of your brand and crafting relevant marketing communications that speaks to the heads and hearts of a brand's core believers, while allowing others to listen in. Here are some practical suggestions that you can put to work today toward building a loyal base of super fans for your brand:
Get out from your desk and go interview super fans face to face. If your brand really wants to connect with super fans, you must leave your office and go meet and talk with them in their environment to understand the context of how they became fans of your brand. That means going to truck stops to interview truck drivers, processing plants to talk with plant engineers, or heading down to the boat landing and striking up a conversation with some anglers. Do this now: Mark in your calendar one day a month to go meet with customers, take calls in the customer service center, or meet with customers – one on one – at an industry or consumer event.

Taking the time to actually talk to super fans can help you better understand what a brand means to all of your fans.

2.  Ask this one question. Collecting data from your CRM systems is critical, but obtaining understanding and context is even more important. Inviting two-way conversation with your customers (and other stakeholders) is the first step. Set this goal: Identify 20 stakeholders (customers, employees, distributors, etc.), pick up the phone, and ask them this one question: "What's your greatest challenge?" The point of his exercise is to identify how your brand can add value to your customer's life by solving problems for your customers.
Be crystal clear about what your brand stands for. This may seem obvious, but you need to clearly communicate who you are, what you stand for, and what value you offer to your super fans – especially if you want them to accurately share your story. Takeaway: Boil your brand message into a billboard with no more than eight words and an image and share it profusely with your super fans through emails, social media, newsletters, etc.
Make your brand likeable. When someone goes shopping, long before they enter the doors of your business or organization, they're checking you out online. After they've determined if your organization has the capability to solve their problem, they want to know if your brand is likeable. Most people want to do business with others they like, and eventually, can trust. To do: Take a close look at your marketing communications – does it convey a brand that's approachable, caring and aspirational? Are your Facebook posts and the content on your brand's website inviting and relevant?
Collaborate with fans in building the brand narrative. The recent Chewbacca Mom video created by a Kohl's super fan that generated millions of impressions for Kohl's, serves as an example of how an organization can invite its super fans to share their love for its brand. Consider: While Chewbacca Mom was a surprise to Kohl's, the company joined in on the fun, increasing engagement with fans and new customers. Your brand could create events or social media opportunities for fans to share in the brand narrative. Or, if a fan creates a fan site centered on your brand, reach out and share resources (photos, videos, etc.) to make the online experience even more incredible.
Plan your content. When it comes to content creation, whether that includes white papers or how-to videos or regularly posting on Facebook or Instagram, many organizations can feel overwhelmed with the day-to-day process of generating new content. Do this: Think like a magazine publisher that plans content months in advance. This discipline will enable you to ensure that your content is consistently in line with your brand, while giving you the flexibility to create new content when an unplanned opportunity pops up.
Create shareable content. People share content with others because it reflects their identity. A social media campaign for Delta Dental of Minnesota allowed people to share their smiles with those that they love. A video for Lakemaid Beer showing a drone delivering a 12-pack of beer with a drone generated more than 700,000 YouTube views and millions of dollars of broadcast exposure, including a segment on NBC's Today Show. Takeaway: Don't worry about length (video, audio or print); focus on creating content that is relevant and leverages the words and images that your super fans use in real life. And don't be afraid to show a sense of humor.
Follow the No. 1 rule of small town newspapers. Having reported for the Prior Lake American as a college student, I learned a valuable lesson from the editor: People love to see their names and photos in print. Try this: Apply this rule liberally to all of your paid, earned, owned and social media – mention as many fans, by name and organization, as possible. Go out of your way to promote your customers and the success they're enjoying by using your product or service.
Be unexpected. We took an unexpected approach to reach hardcore runners for a national footwear company: we created posters highlighting the color of a marathoner's pee (as it relates to their hydration) and posted them in porta-johns at marathons across the country. The cost was virtually nothing, as no other companies wanted to put any of their branded content or ads anywhere near a porta-john. But if you want the undivided attention of a marathon runner, that's where you go. Consider this: Where are the unexpected places, events or moments where you can reach your core fans. Find out, and show up.
Super fans don't just happen. From the day a brand is founded, it's up to the people behind it to nurture and cultivate a base of fans that will support the brand through thick and thin.
Focus your intentions on placing a priority on the relationship over the transaction (a sale, a vote, a donation, an employment application). Take a human-centered approach to your marketing and communications to build a community of fans who will be so pleased with the brand experience that they can't wait to share it with others.
Do this and the numbers will follow.
Always remember: It's fans that breathe life into a brand. Not the other way around.
Stephen Dupont, APR, is VP of Public Relations and Branded Content for Pocket Hercules (www.pockethercules.com), a brand marketing firm based in Minneapolis. Contact Stephen Dupont at www.linkedin.com/in/stephendupont or visit stephendupont.co.