This summer (Summer 2019) I had the opportunity to host Karin Ellefson for our annual summer public relations internship. Karin exhibited a can-do, get-'er-done attitude from the moment she walk through our doors at Pocket Hercules. It was a real honor to work with her and watch her grow as a writer and public relations professional. — Stephen Dupont, APR
By Karin Ellefson
Going into my junior year of college, one of the most important things to me is getting to see different offices, sizes and aspects of the advertising and public relations field. My major allows me to explore both careers while having the ability to focus on one or the other. Fortunately, I've had a handful of marketing/advertising internships before coming to Pocket Hercules, but nothing could've prepared me for this.
Up to this point, I had really only seen the advertising side, having worked as a marketing intern at Finn Partners in London, England, this past spring, as a marketing coordinator for the Daily Nebraskan Newspaper (student newspaper for the University of Nebraska-Lincoln), and as a social media specialist for the student-run advertising agency, Jacht, at the University of Nebraska-Lincoln where I attend.
I think that being able to get involved, both at school and outside of school, is one thing that I recommend to every college student. Having lots of different experiences, internships and leadership positions has helped shape me into the worker I am today. Not only that, but it has also really helped me realize what kind of work I'd like to do after I graduate.
Because I have quite a bit of experience under my belt, I was determined to find an internship for the summer. After reaching out to — almost — every agency in the Twin Cities, I finally heard back from one. So, when Pocket Hercules offered me a summer internship, I jumped on it right away without knowing completely what it would entail. I just wanted to be a part of the hustle and bustle of a small agency in downtown Minneapolis.
Stephen Dupont, my supervisor, mentioned to me that what I would be doing throughout the summer would be mainly related to public relations activities. Though this intimidated me a bit, I was up for the challenge. I was a part of the student newspaper and yearbook staff at my high school, then as a journalist for the Daily Nebraskan Newspaper, but I never really thought of myself as a "good" writer.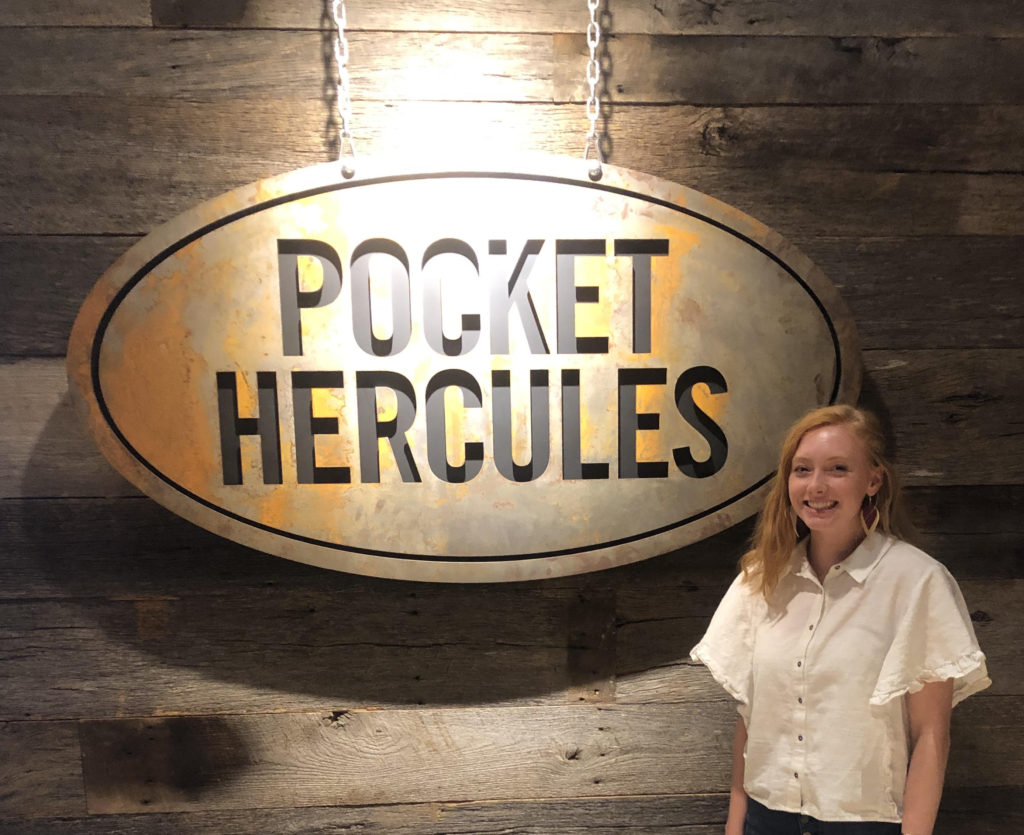 My days at the office consisted of writing articles, product descriptions and social media posts for our clients, doing research for a white paper, and connecting to industry professionals inside and outside of Pocket Hercules. He also had me figure out my personal brand, something I had not thought about in depth before. From loosely planning out my five- and ten-year goals to taking into consideration my beliefs and what I stand for when it comes to a future career, I feel like I have definitely grown. Stephen, and the rest of the Pocket Hercules team, helped me become a stronger writer, communicator, and student.
Being able to intern at Pocket Hercules has been one of the most challenging, yet rewarding internship experiences I have had so far, from expanding my knowledge on marketing and advertising to furthering my writing skills. There is something about working in one of the largest advertising hubs of the country that makes me fall more and more in love with the industry and I am so happy I got the chance to experience it with a company I respect and love. And though I had to take the bus downtown every day (a 45-minute trip one-way from the suburbs), I wouldn't trade that for anything.
Now that my internship with Pocket Hercules is over, and as I get into the flow of another school year, here are some of the things I've learned that I would like to share with other college students seeking internships in an advertising/public relations firm:
Connect, connect, connect— Thankfully, Stephen helped a lot in connecting me with a few local advertising and public relations professionals. Along with that, I had the chance to talk to everyone in the office about what they do. Try and get an internship or shadow someone in the industry you want to eventually have a career in because the more you have on your resume, the better. This helps me, as well as other people my age, figure out the industry and what it takes to be a successful professional. So, reach out!
Take risks— You may not be an expert on anything, but if you think something should be changed or if you have an idea on a project, don't be afraid to speak up and tell someone, even if you're "just an intern."
Fake it 'till you make it— You may not feel like you are fully equipped for the job you are doing, but if you put hard work and research into it, ask questions and act confident, you will eventually get there.
On that note, I would just like to say thank you to all of the folks at Pocket Hercules for being open and accepting this summer. From patio conversations to trying "cheese tea," this has been an experience I will not forget.
Karin Ellefson is a junior at the University of Nebraska-Lincoln studying Advertising and Public Relations with minors in Business and Sociology. To connect with her, go to her LinkedIn page.