What I Learned From my Public Relations Internship with Pocket Hercules
Note from Stephen Dupont, APR: We had the pleasure of hosting Sonja Mischke as an intern here at Pocket Hercules during the Spring semester of 2019. Sonja is currently a junior studying English and communications at Augsburg University, located in Minneapolis, Minn. She did an incredible job for us. She's a strong writer and has a promising career awaiting her in communications and public relations.
I thought I knew how to write.
As a junior English and communications major at Augsburg University, I had written plenty of academic papers, I was great at crafting an argument, and I could easily analyse my points and support them with textual evidence. Five paragraph essays, intro sentences, evidence, analysis, and conclusions – it was all second nature to me.
But I was missing something.
When I came to work at Pocket Hercules, I was suddenly made aware of a whole other world of writing that I had zero experience in: writing for advertisement and creating content. I learned that this is a completely different experience than writing in an academic setting, and quickly I was made aware of gaps in my knowledge that I didn't even know were there.
In order to adapt to this new setting, I realized I was going to have to rebuild my writing from the ground up. At first it was a scary prospect. Up until this point, my education was linear. I would learn a skill and work to improve it until I was proficient, but this time I was unlearning rules I had known for years and working to rebuild a whole new set of skills.
It couldn't have been a better experience for me.
With time and work, I took my page long paragraphs and turned them into short, impactful sentences. I learned how to craft a compelling throughline in every story that I wrote. I learned how to tell a story honestly, and with an openness and curiosity for every subject.
My skills became flexible. It got easier to differentiate between my two writing styles, and also recognize where they overlapped. I am a much better writer now, and none of it could have been possible without the amazing support and experience that I received at Pocket Hercules. After a full semester here, there are a few things in particular that I will take with me for the rest of my career.
Doing the Research
For most of my time at Pocket Hercules, I was writing about topics that I had no prior knowledge about. This meant doing research. A lot of it.
While at first the task seemed daunting, I ended up learning an enormous amount about topics that I had never explored like construction, golfing, truck driving, and event planning.
After interviewing multiple people in the trades, with careers as electricians, glaziers, and operating engineers, I found myself becoming more aware of the kind of work that goes into building and maintaining the buildings that I use every day.
I learned that plumbers dread moving bathtubs, that heavy machines operators have favorite machines, that some glaziers live for the thrill of dangling thousands of feet in the air to replace a pane of glass on a skyscraper.
I learned about the importance of rotary movement in a golf swing, how posture can make or break your game, and how watching golf on TV can actually improve your skills.
I learned so much more than I ever thought I would, and eventually I started to feel more confident in my ability to write about my discoveries.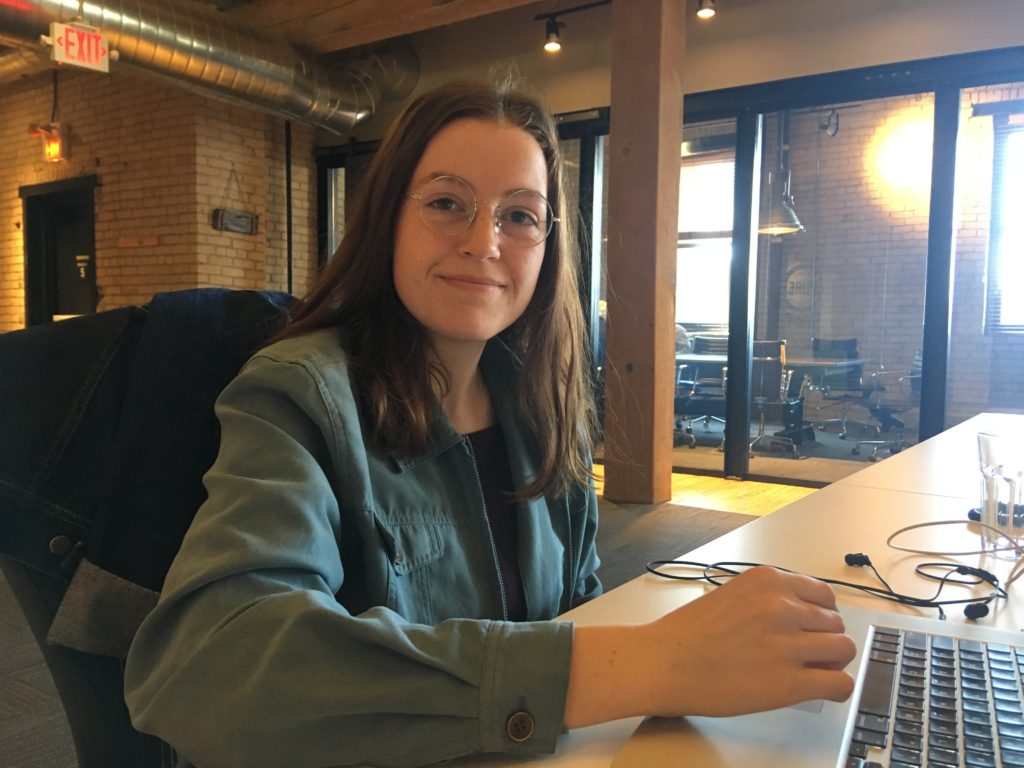 Telling a Story
During the research phase of my writing process, I was learning so much more than just facts about things like construction, golfing and truck driving. I was learning about people's lives.
I learned about people's families, their children, spouses, and pets. I learned how they got to where they are. I learned about the obstacles they have faced, when their income was low, when they were going through a rough break up, when they were struggling to support their family and find a lifestyle that fulfilled them.
I learned that humanity is the thing that people care about, and that it's so important to highlight it in writing of any kind. With the help of the people I interviewed, and their generosity in sharing important pieces of their lives, I was able to find the humanity in every story that I wrote.
Taking the Leap
Throughout the many experiences that I've had at Pocket Hercules, the most important one that has stuck with me has been taking a leap, doing something even though you've never done it before (and have no idea what you're doing).
There were so many times this semester when I was presented with a new writing assignment that I thought, "I have no idea how to do that," but by jumping in and writing the best that I could, I was able to learn from my mistakes. Stephen was able to give me feedback on my writing throughout the year that helped me think critically about areas that I can improve. As time went on, that feeling of being an imposter started to fade as I learned more and felt more comfortable in the work I was doing.
I am more aware of the areas within myself that need improving, and I'm therefore more equipped to become a better, more well rounded writer.
Final Thanks
A huge thank you to everyone at Pocket Hercules who helped me feel comfortable and supported for this whole semester. Without your help and hospitality, I couldn't have felt as welcome as I did.
And a thank you to Stephen Dupont who took the time to push my writing to the next level, who corrected my mistakes and gave me honest and valuable feedback that I will carry with me for a long time to come.