By McKenna Manalli
Note from Stephen Dupont: I had the honor of working with McKenna Manalli during the spring of 2019 as a public relations/content marketing intern at Pocket Hercules. During this time, McKenna researched and wrote articles for our clients, conducted media relations research, wrote social media copy and much more. McKenna recently graduated from Augsburg University, located near downtown Minneapolis, with degrees in psychology and communications. She obtained her first full-time position immediately out of college working with a legal software development firm. McKenna was a pleasure to work with, and has a great future ahead of her. If you'd like to learn more about McKenna, check out her LinkedIn page at McKenna Manalli.  
My time at Pocket Hercules was like nothing I'd experienced before. Over the past four years at Augsburg University, I've focused on my psychology major more than my communications major. This being said, before Pocket Hercules, I had very little experience working or interning in the communications field. My internship helped me learn more about the public relations field, better preparing me for life after college.
The Atmosphere
I never used to think about the process behind the creation of commercials or articles. The buzzing of the office and the high-energy conversations is what sets this field and this company apart.
It takes hard work, dedication, and persistence to be the branding powerhouse that Pocket Hercules is. I've been lucky to be exposed to so many hardworking people that set a good example of how to work as a team and get things done.
Working downtown at the very modern Pocket Hercules office has opened my eyes to the possibilities this city can offer. It's been interesting to say the least trying to navigate the bus and light rail systems – of which I still have not quite mastered. One thing is for sure, I've fallen in love with the downtown work scene and know this is the type of environment I'd like to work in for the years to come.
So Many Subjects
Other than the cool office and free snacks, what I've most enjoyed about working at Pocket Hercules has been all the different subjects I've learned about, and the lives I've been exposed to, from writing articles and doing research.
I never thought I would know so much about zero-turn mowers, what type of boot is best for turkey hunting, or how to get into a construction career.
I've had the privilege of hearing the experiences of hardworking women breaking barriers and excelling as heavy equipment operators, a single-father working to become financially stable for his son, and a truck-driver who's dedication to ensuring safety for everyone on and off the road is truly inspiring.
At one point I thought how random all of these subjects have been, but what makes the difference is finding pieces that are relatable. Before I knew it, I became invested in every story, brand, and person.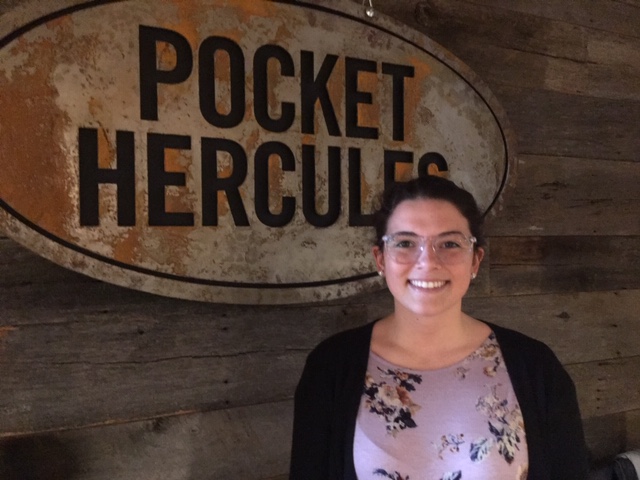 New Skills and Challenges
I've done so many things here at Pocket Hercules that I'd never done before – creating social media posts, writing articles, product-based researching, conducting interviews and much more. It's been an eye-opening experience to see what goes into creating content for brands.
With all the positive things being said, I have to admit it has also been a great challenge for me. I've always thought writing has come easy to me. In school, essays and writing assignment were always the least of my worries – but when I came to Pocket Hercules, I realized I knew much less than I thought about writing.
During the past four years I've been writing research papers in a technical style, and knew nothing but that type of writing. But, with help and guidance from Stephen Dupont, who I worked with at Pocket Hercules, I've been able to build my writing skills and develop and understanding of how to write in a whole new way.
Luckily, I could not have asked for a better supervisor and mentor to help me along. Working for Stephen has challenged me, but I've gained more than I ever would have thought.
Wrapping It Up
Now that my time at The Pocket has come to a close, it is bittersweet. I've become invested in the brands we work with and I have really enjoyed doing things such as helping be a voice behind articles, or coming up with social media posts to extend a company's social media presence.
Although I am sad to go, I'm grateful for all the new knowledge I'm leaving with – knowledge that I could not have gained in the classroom.
Thank You
I want to thank the Pocket Hercules staff for being so welcoming and always happy to talk and bestow words of wisdom that were much needed.
A huge thank you to Stephen Dupont for giving honest and helpful feedback on my work and helping me develop into a better writer, and for always being available to talk and give guidance whenever needed.